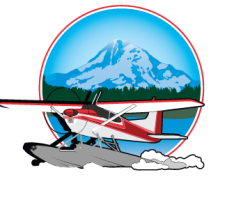 Alaska Flying Adventures, LLC
The ultimate way to explore Alaska
A Tradition Of Excellence
Welcome to Alaska Flying Adventures, LLC, the best destination for all your Alaska flying needs. Whether you want a beautiful Scenic Glacier Tour, Floatplane Training and ASES Rating, or a Charter Flight to fly you and your cargo to a Private or Public Use lake cabin, Alaska Flying Adventures, can provide it all. We are just a one hour drive north of Anchorage, located in the scenic Matanuska-Susitna Valley.
Alaska Flying Adventures, LLC offers floatplane training and ASES Ratings from T66 Seaplane Base, Visnaw Lake, near beautiful Wasilla, Alaska. Utilizing their Cessna 172 on Pee Kay 2300 floats, you will enjoy the splendor and variety of lakes to use while training for your float rating. Allow 2 to 4 days to complete the ASES add-on course. Our on-staff  Designated Pilot Examiner is available 7 days a week. Advanced float training and training in your own aircraft is available as well. 
 It is often said, the best way to view Alaska's unrivaled beauty is from the air. Alaska Flying Adventures, LLC can make that happen for you, as we offer flight tours from our convenient Seaplane Base located just fifteen minutes west of Wasilla, Alaska. From here your flight will depart, and within minutes you will be flying over spectacular sights, such as the Knik and Colony Glacier. For those who wish to venture further, we recommend a day trip to go bear viewing (seasonal) or an unrivaled flight to Denali, the highest mountain in North America located 95 miles to the northwest. Whichever tour you choose, you'll be amazed with your experience. 
Whether you live here in beautiful Alaska, or are visiting from afar, call Alaska Flying Adventures, LLC to book a Charter Flight custom designed to your needs. We fly building materials, food supplies, camping equipment, cargo, and of course you and your friends to destinations of your choosing. We highly recommend a 3 or 4 day get-away to a Public Use cabin, located on a near-by lake, usually accessible only by air. There you can go boating, fishing, and hiking while staying in a rustic cabin. We will fly you and your supplies in picking you up at the conclusion of your stay.